MARKET RECAP & LOOKING FORWARD:
September advanced 1.87% in the S&P 500 (total return), while the VIX Index ticked down -14.44%. Sounds like the ingredients of a relaxing and quiet month, but there was definitely noise.
Significant spikes in overnight lending rates were relieved only by the Fed providing repo markets a much needed liquidity boost. These cash injections felt like a baby step towards a new form of QE. Oil reversed its massive gains accumulated during the first half of the month, but ended the month near a two-month low after giving back the entire intra-month gain (and then some). There were talks of impeachment attempts from the Democrats around President Trump. Corporate bond sales set a new monthly record: $434 billion in new issuance. Certain sector-specific bellwether's got hammered: Micron, FedEx and Netflix to name a few.
Economic data is front and center. Negative surprises in ISM or PMI data are acting as a newly-found reason to reverse any rally, especially since many economies are already in contraction (according to these two key gauges). It's a 'bad news = bad news' market. And while anything is possible, the weak manufacturing data doesn't seem to be bottoming yet. Is the Fed doing enough? That sounds crazy to even ask given their role and impact throughout this cycle, but it's a relevant question. This market is depending on them to not only remain dovish, but to get more dovish. If there was a fear of them turning hawkish, that would be a disaster, which is equally crazy considering how low interest rates already are. But Federal Chair Powell turning hawkish now seems very unlikely given the result of doing that in Q4 2018.
At this time, I believe that the key baseline arguments for the majority of bulls are 1) the Fed is accommodative and will remain so until they don't, 2) interest rates are low and because of that, stocks aren't expensive on a relative basis, and 3) corporate earnings and the consumer are both strong enough. We will know a great deal more about earnings, revenues and guidance in a few weeks. The market will likely place more importance on guidance and revenue vs. EPS. Until then, corporate blackout periods will be underway soon. This leaves the largest price-insensitive buyers – the companies themselves – on the sidelines until after they report. What will get us back to record highs and beyond? A few of several catalysts that would give the S&P 500 ammo to take the next leg higher are likely: 1) If trade headlines turn and stay positive, 2) a stronger than expected earnings season with solid overall guidance, 3) an even more accommodative Fed. One thing is for sure: it's not easy comparing this current market with previous ones when seeking what will be next. Looking at economic data, earnings and guidance is always relevant. Economic data is weak, earnings season is just around the corner and the trend in EPS expectations have been heading lower across the board. But today's global landscape includes negative interest rates, trade concerns and actual problems, incredible amounts of outstanding debt, a decade of massive stimulus, lingering geopolitical risks, and we are in the longest expansion ever. Investors haven't lost in 10 years in buying the dip. And "haven't lost" translates to "haven't made less than a lot."
Now that Q4 is underway, is the S&P 500 setting up for a repeat of Q4 2018? It doesn't help that on October 1, ISM Manufacturing printed the worst reading in a decade. The number came in at 47.8, widely missing expectations of 50.0. That triggered a few risk-off days to kick off this fresh quarter. Earning season starts in a few weeks, and Q3 EPS for S&P 500 companies are projected to decline 3% year-over-year. A dismal ISM + a bad earnings season could absolutely the trigger for a tough quarter. I'd expect to see a rotation into defensive sectors including Staples, Real Estate, Heath Care and Utilities – at least until earnings play out. Technicals are also important to watch. Charts across all markets and regions are getting interesting, and I had trouble narrowing down the list this month.
CHARTS & THEMES WORTH WATCHING
FedEx Delivered a Tough Package for Investors
Source: Bloomberg
S&P 500, Dow Jones & Nasdaq's first 9 months of 2019
Source: Bloomberg
The S&P 500's Uptrend from the December 2018 Low: 2925 (lost this uptrend yesterday)
Source: Bloomberg
Chicago PMI in the Contraction Zone
Source: Bloomberg
September ISM = 10-yr low (47.8)
Source: Bloomberg
US Dollar Keeps Grinding Higher
Source: Bloomberg
VIX Index Making a Deep Base to Move Higher
Source: Bloomberg
Forward P/Es Notably Higher in the US vs. Europe, Asia (and pretty much anywhere)
Source: Bloomberg
AAPL Reclaims the Trillion Dollar Throne
Source: Bloomberg
Yields on the German 10-yr Bund: Seeking a bottom
Source: Bloomberg
German DAX: Upside Breakout Would be > 12,500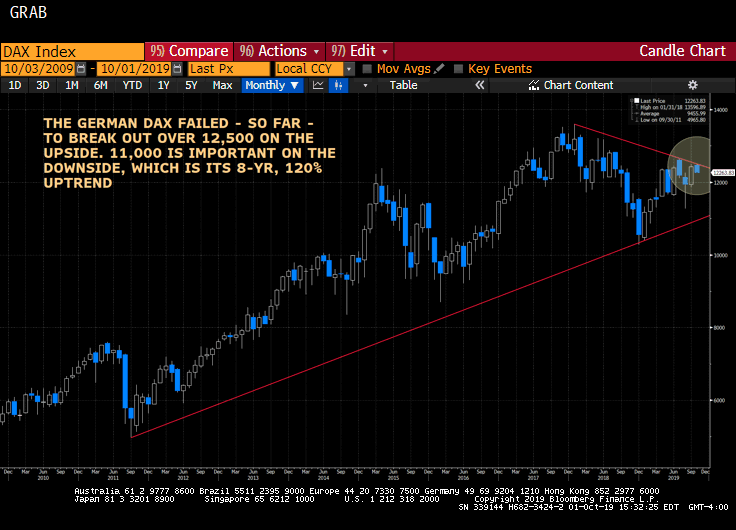 Source: Bloomberg
S&P 500 Point Winners & Losers YTD
Source: Bloomberg
Fed Balance Sheet Reduction: YoY
Source: Bloomberg
Fed Balance Sheet Expansion: 20-yr chart (much different picture vs. the 12-month chart)
Source: Bloomberg
Implied Vol on Short-Term Treasury Options (MOVE Index) Remains Elevated
Source: Bloomberg
Microsoft's Insider Transactions
Source: Bloomberg
Nasdaq is VERY Expensive on a Price-to-Sales Basis
Source: Bloomberg
Technology (XLK) Has Yet to Lose Its Uptrend (lost this uptrend yesterday)
Source: Bloomberg
What the Bond Market Thinks (66.7% Chance of a Raise on 10/30)
Source: Bloomberg
CURRENT MARKET DRIVERS WORTH WATCHING
Here are the key drivers that we see as most important in this market (in no particular order as they are all significant):
US - China Trade Talks: Another round of tariffs is set to start on December 15. Uncertainty around trade continues to persist. How will markets react to an eventual trade deal with China? Will there ever be a deal? What's priced in? Tariffs continue to crimp global growth. Everything else is speculative, in my opinion.
Oil remains over $50/bl, but looks vulnerable: After spiking earlier in September, WTI gave back all of its gains and more. Heading into October, WTI was trading at roughly $54/bl. Higher oil prices with slower global growth isn't a good combination, and that's where we are today. Away from that, $50 remains a key level to hold for all markets, especially high yield.
Earnings and Guidance: Lackluster revenue and forward guidance have been the themes thus far in 2019. Q3 earnings season kicks into high gear in about 2 weeks.
Interest rates and the Fed: Although rates were up modestly for the month of September, they can't seem to stay up for long. In a world of slowing economic data, bonds will remain well bid. Are rates still too high here in the U.S.? The German 10-yr is far into negative-yielding territory.
Debt: Debt quality is deteriorating at the same time debt levels are very elevated. While there has been some deleveraging in households and the much of the banking sector since 2008, both corporate debt – away from financials - and-debt to-GDP are at nosebleed levels that can add fuel to the next bear market. The growth of the triple BBB corporate bond market is especially worrisome.
WENNCO STRATEGY INFORMATION
Wennco Downshift ETF Hedged Equity Strategy Update:
Since inception (7/1/18) through 9/30/19, Downshift ETF has gained 3.75% (net of Wennco fees only) vs. -2.53% for the HFRX Equity Hedge Index, 12.29% for the S&P 500 Total Return Index, 10.32% for the Bloomberg Barclays U.S. Bond Aggregate Total Return Index, and 3.75% for the BXM Index (CBOE S&P 500 BuyWrite/Covered Call Monthly Index). For the month of September, Downshift ETF gained 1.06% (net of Wennco fees only) vs. 1.87% for the S&P 500 Total Return Index.
Downshift is an all-weather strategy that helps clients stay invested in equities with less volatility and aims to reduce risk. I believe this strategy has a place in nearly all portfolios.
Why Downshift Today?
1) Elimination of market timing while staying invested in equity markets
2) Reduction of portfolio volatility and beta
3) Owning uncorrelated return streams is important to preserving wealth, and especially makes sense in late in market cycles (like where we are today). Bonds have become less uncorrelated to equities, and investors need more reliable sources of protection in risk-off markets.
4) Downshift ETF has two parts which are negatively correlated: long-dated and actively managed S&P put options, and actively managed covered calls that strive to increase both portfolio yield and total return Downshift ETF avoids many hassles of owning traditional alternative investments: the strategy is fully transparent, 75bps vs. 100-200bps, and very liquid. It is also easy to understand and articulate
Downshift is available to invest on Schwab's Marketplace Separately Managed Account Platform. Our latest 2-pgr can be found here:
https://www.wenncoadvisors.com/wenncodownshift-etf-strategy
PLEASE PING ME FOR OUR LATEST DOWNSHIFT ETF & INVESTMENT STRATEGIES DECK (or for anything else)
Have a great October. Stay nimble out there.
Best,
Chris
Chris Wenner
CIO & Head Trader
Wennco Downshift Strategies
678-257-2726 (o)
203-984-4287 (m)