MARKET RECAP & LOOKING FORWARD:
Equity markets had a strong October and remain on track for a big 2019. Through 10/31/19, the S&P has gained 23.16%, the Nasdaq 26.07%, and the Dow Jones 18.19% (year-to-date total returns). Small Caps and Transports, while lagging the broad indices, are up 17.16% and 15.98% in 2019 (also year-to-date total returns). Not bad. Especially considering a long list of global economic and geopolitical cross-currents, a Q4 last year which saw equities drop 20% at one point, and unimpressive earnings growth and economic data. But it is definitely a tough market to chase, in my opinion. And although October was a strong month, there were some things that struck me as spooky.
2019 YTD Equity Index Returns (through 10/31, total returns)
Source: Bloomberg
The combined market cap of AAPL & MSFT is now bigger than the entire market cap of the German Dax Index. That's more than $2.23 trillion in market cap between these two companies and truly an unreal statistic. The Fed cut interest rates by 25bps, which was expected and priced in. But the fact that the bond market correctly priced in this cut with the S&P 500 trading at all-time-highs seems like a new game. Fed Chair Powell seemed to have appeased both hawks and doves. While economic data has been weak, and weak enough to remain accommodative, it has been a tad less weak than in previous months. Earnings are more than halfway done for Q3, and EPS growth on a year-over-year basis is negative. Equities have been climbing on this year-over-year, net-negative EPS growth (positioning, sector & factor rotation are likely at work here). Repo market liquidity is clearly still not liquid enough, and the Fed is now committed to helping here. Asset prices still rose. Valuations on the S&P 500 are getting more expensive, and many sectors and individual stocks are very stretched (at least relative to themselves). Hasn't mattered, at least not yet. Don't get me wrong: asset prices going up is always a good thing. But we've only gone up - with a few short-lasted pullbacks and corrections - for 10 years. We also have a President hell-bent on the stock market remaining near or at all-time-highs. Plus the corporate buyback bid will soon be returning with earnings season winding down. And it makes sense that equities have been the place to be. Bond yields are low enough to prefer putting your money in equities between these two asset classes.
Bond market: "All is not well with the global economy"
Stock market: "No worries, we offer the same yield as the 10-yr and have more upside than bonds"
Alternative strategy managers (like myself): "It's really, really time to look at alternatives"
If a real trade deal gets done, one that addresses the IP issues between us and China, and the Fed remains accommodative, 2020 could be another good year for equities. Especially since Trump will be gunning for markets to remain at or near the highs heading into the election. But I think a lot has to go right from here, including a pickup in global economic data – and not a huge pickup because that would, for one reason or another, get interest rates moving much higher than present levels. More around China and recent optimism over trade headlines: it appears that the US and China are just starting a longer process to address the core fundamental issues. There is still the threat of an increase in tariffs later this year (or at any time), and while markets seem to be buying equities on every Tweet, sentiment seems overcooked on the upside around trade progress and pending outcomes. We could be setting up for a grand "sell the news" event leading into Trump and Xi signing a Phase One deal at the APEC meetings on November 17, or in December when other tariffs are scheduled to be implemented. No matter what, US-China trade is an issue that the market is watching closely, and any developments – or lack thereof – will likely be the most important issue heading into year-end.
Risks out there appear skewed to the downside. Heard that one before. In this cycle there have been too many instances to count in which those very words, "risks appear skewed to the downside," have resulted in the next leg higher in equity prices. The invisible hands have helped. So instead of calling for another top, I think investors should embrace 1) technicals and 2) strategies that participate in some of the upside, but focus on protecting the downside to partially absorb and shield against when the rooster actually does come home to roost.
Technicals help to reduce emotions on when to buy or sell. While charts are only 1 piece of the puzzle with unlimited pieces that exist in trading and investing, it does give insight into where algo's and CTAs/trend followers, among other traders, are likely to either add or reduce exposure. And in a very uncertain world with seemingly more downside than upside, that small advantage can help when making decisions. Additionally, owning defensive equity strategies, which is what my firm specializes in, also makes sense in this market for a number of reasons. While I list out several each month towards the bottom of my notes, I will mention 1 core reason here: both equities and bonds are expensive! It's nearly impossible to diversify away risk in either long-only portfolios or in fixed income, especially at prevailing levels. Q4 2018's sell-off was a flight to cash, not fixed income. Bonds went down in value during most of that period, along with equities, and fixed income didn't have that partial offsetting counterbalance most investors look for – especially in turbulent times. I think increasing exposure to hedged equity strategies, which provide a certain level of downside protection using purely negatively-correlated components, provides a solution to stay in the market while addressing the need for a true layer of protection.
CHARTS & THEMES WORTH WATCHING
ISM Manufacturing Remains Sub-50
Source: Bloomberg & Wennco LLC
S&P 500 Bollinger Bands (weekly, 3-yr chart)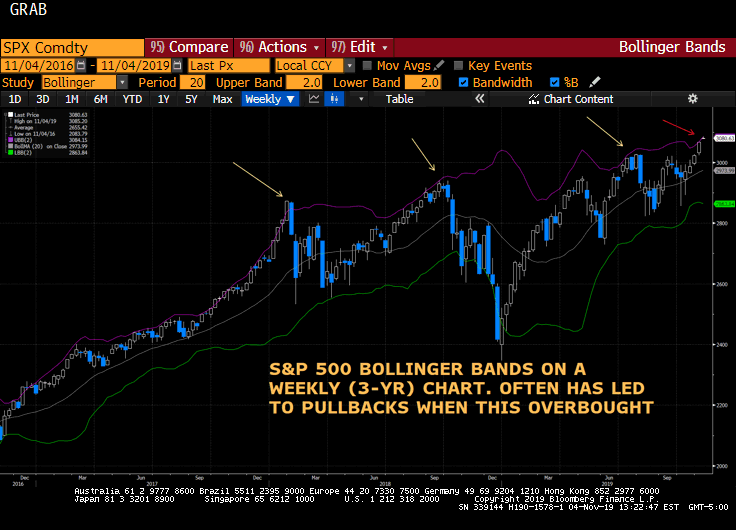 Source: Bloomberg & Wennco LLC
S&P 500 Earnings Growth is Negative (year-over-year)
Source: Bloomberg & Wennco LLC
S&P 500 Price-to-Sales Getting Frothy
Source: Bloomberg & Wennco LLC
S&P 500 Key Levels (weekly chart): Breaking Out Up Here?
Source: Bloomberg & Wennco LLC
VIX Futures Net Short Contracts (5-yr chart. Currently @ levels that have preceded equity pullbacks)
Source: Bloomberg & Wennco LLC
AAPL Market Cap Charted
Source: Bloomberg & Wennco LLC
2/10 Treasury Spread Steepening
Source: Bloomberg & Wennco LLC
Low Yields Haven't Stopped XLF from Breaking Out…Always a Good Sign for Bulls
Source: Bloomberg & Wennco LLC
Downtrend in 10-yr Yields: 1.80-1.85% Important
Source: Bloomberg & Wennco LLC
Surprisingly, Software Has Yet to Make New Highs
Source: Bloomberg & Wennco LLC
Consumer Staples: Stalling or Consolidating?
Source: Bloomberg & Wennco LLC
Materials Making Material Headway?
Source: Bloomberg & Wennco LLC
Small Caps Remain a Laggard to the S&P 500
Source: Bloomberg & Wennco LLC
Watch 8000 in the Nasdaq
Source: Bloomberg & Wennco LLC
A Global Look at ETF Flows: US dominates 1m, 3m, YTD, 1yr & 3yr inflows
Source: Bloomberg & Wennco LLC
Commodities 2019 YTD Returns (Crude keeping up with the S&P 500, while copper is negative for the year…definitely odd)
Source: Bloomberg & Wennco LLC
The VIX at 12
Source: Bloomberg & Wennco LLC
High Yield (using HYG ETF) Looks Ready to do Something
Source: Bloomberg & Wennco LLC
Value vs. Growth 3-yr COMPS (Russell 1000 Value Total Return Index & Russell 1000 Growth Total Return Index)
Source: Bloomberg & Wennco LLC
Value vs. Growth YTD COMPS. Value Starting to Narrow the Spread (Russell 1000 Value Total Return Index & Russell 1000 Growth Total Return Index)
Source: Bloomberg & Wennco LLC
3-month LIBOR has ticked nearly a full point lower since Dec. 2018
Source: Bloomberg & Wennco LLC
CURRENT MARKET DRIVERS WORTH WATCHING
Here are the key drivers that we see as most important in this market (in no particular order as they are all significant):
US - China Trade Talks: Uncertainty around trade continues to persist, but undoubtedly seem to moving (slowly) towards some kind of agreement. How will markets react to an eventual trade deal? Will there ever be a true deal? What's priced in? Tariffs continue to crimp global growth. Key upcoming dates are November 17 (APEC Meeting) & December 15 (the next tariff deadline)
Oil remains over $50/bl, but looks vulnerable: Heading into November, WTI was trading at roughly $54/bl and remains rangebound between $50-$60/bl. Higher oil prices with slower global growth isn't a good combination. Away from that, $50 remains a key level to hold for all markets, especially high yield.
Earnings and Guidance: Q3 earnings season is now more than halfway completed, and EPS has been weak (although seemingly less weak than many thought).
Interest rates and the Fed: Although rates are higher since bottoming in early September, they can't seem to stay up for long. In a world of slowing economic data, bonds will remain well bid. Are rates still too high here in the U.S.? The German 10-yr is far into negative-yielding territory. Watch 1.80-1.85% in our 10-yr. Where rates go will affect, among countless other factors, sector and factor rotation within equities.
Debt: Debt quality is deteriorating at the same time debt levels are very elevated. There's $23 Trillion in total US Debt for the first time in history. While there has been some deleveraging in households and the much of the banking sector since 2008, both corporate debt – away from financials - and debt to GDP are at nosebleed levels that can add fuel to the next bear market. The growth of the triple BBB corporate bond market is especially worrisome.
WENNCO STRATEGY INFORMATION
Wennco Downshift Hedged Equity Strategy Update:
Since inception (7/1/18) through 10/31/19, Downshift has gained 3.41% (net of Wennco fees only) vs. -2.02% for the HFRX Equity Hedge Index, 14.78% for the S&P 500 Total Return Index, 10.65% for the Bloomberg Barclays U.S. Bond Aggregate Total Return Index, and 5.89% for the BXM Index (CBOE S&P 500 BuyWrite/Covered Call Monthly Index).
S&P 500, Barclays U.S. Bond Aggregate, BXM Index, HFRX Equity Hedge Index (all Total Return performance)
S&P 500, Barclays U.S. Bond Aggregate, BXM Index, HFRX Equity Hedge Index (all Total Return performance)
Source: Bloomberg
Downshift is an all-weather strategy that helps clients stay invested in equities with less volatility and reduced risk.
WHY DOWNSHIFT TODAY?
1) Elimination of market timing while staying invested in equity markets.
2) Reduction of portfolio volatility and beta.
3) Owning uncorrelated return streams is important to preserving wealth, and especially makes sense in late in market cycles (like where we are today). Bonds have become less uncorrelated to equities, and investors need more reliable sources of protection in risk-off markets. Downshift has two parts which are negatively correlated: long-dated and actively managed S&P put options, and actively managed covered calls that strive to increase both portfolio yield and total return.
4) Wennco Downshift Strategy avoids many hassles of owning traditional alternative investments: the strategy is fully transparent, 75bps vs. 100-200bps, and very liquid. It is also easy to understand and articulate.
5) Equity market exposure with lower volatility is a more attractive investment than adding fixed income exposure at prevailing yields, in our opinion.
Downshift ETF is available to invest on Schwab's Marketplace Separately Managed Account Platform. Our latest 2-pgr can be found here:
https://www.wenncoadvisors.com/wenncodownshift-etf-strategy
PLEASE PING ME ANYTIME FOR OUR LATEST DOWNSHIFT ETF & INVESTMENT STRATEGIES DECK (or for anything else)
Have a great November. Stay nimble out there.
Best,
Chris
Chris Wenner
CIO & Head Trader
Wennco Downshift Strategies
678-257-2726 (o)
203-984-4287 (m)