MARKET RECAP & LOOKING FORWARD:
2019 is officially in the books. What a year for equity markets worldwide (and especially here at home).
S&P 500, Nasdaq, Dow Jones, Small Caps & Transports 2019 Returns:
Source: Bloomberg
The S&P 500 had its 11th best year in its history in 2019 (and its best year since 2013). The Nasdaq had its best year since 2009. It was a big-time year, and it was the exact opposite of Q4 2018.
Here we are in 2020 - an election year and coming off a historic year for global equity markets last year – and equities are still the place to be. As long as rates stay low, equities have a reason to stay high and can likely go higher. This seems to be the mindset – and this has worked since the Fed pivoted 12 months ago. 2020 may be similar to last year in themes: central banks will likely remain accommodative, global growth will be slow (but should start improving), and so on. The US-China trade rhetoric has dwindled for now - and that's a great thing for markets. It feels like the worst of the US-China threats is behind us. We will see how the first month and quarter to this new year unfolds, but markets seem content on the US-China front.
Will renewed (and new) Iran/tensions in the Middle East replace the US-China narrative on the geopolitical risk front? Over the past year, markets have been able to shrug off any possible outlier other than whether or not central banks will remain accommodative. If that is known, and is a resounding "yes," then nothing else has mattered. Therefore, the Fed being on sidelines might be good enough for equities having another strong year. It's all about rates. Among other things that are 'pro-equities', low rates facilitate massive corporate buybacks. Don't fight the Fed has never been truer.
Earnings season is about to kickoff. While markets will watch how earnings and guidance stack up to expectations, company reports can stay in the backseat in terms of importance (as crazy at that sounds) - as long as the Fed controls the narrative/they stay out of the way. With everything above being said, having opportunistic strategies, defensive and alternative strategies, and a higher level of cash vs. previous years, all make sense in this market. Many of the longer-term (and shorter-term) charts on most equities, and their indices, are very stretched. Valuations aren't cheap. Risks out there – across the spectrum – are more amplified today vs. 3, 6, 9 and 12 months ago. Global growth could pick-up, the Fed could change – even a slow change would get priced in quickly - and like all cycles, at some point they turn.
Finally, there are some interesting themes on the long side; the energy sector for one. It was a laggard last year, and any kind of synchronized global growth should result in 1) yields rising, and 2) many commodities and energy-stocks performing well. Central banks may keep somewhat of a lid on yields, but less so with commodities.
Here's to a great 2020.
CHARTS & THEMES WORTH WATCHING
SPX Price-to-Sales Ratio
Source: Bloomberg & Wennco LLC
SPX EV/EBITDA
Source: Bloomberg & Wennco LLC
China's Hang Seng Price-to-Sales Ratio
Source: Bloomberg & Wennco LLC
Global, Negative-Yielding Debt Coming Down
Source: Bloomberg & Wennco LLC
Implied vs. Realized Vol on the S&P 500
Source: Bloomberg & Wennco LLC
Transports Monthly Chart
Source: Bloomberg & Wennco LLC
Russell 2000
Source: Bloomberg & Wennco LLC
VVIX Index: Vol of Vol
Source: Bloomberg & Wennco LLC
VIX Net Short Contracts
Source: Bloomberg & Wennco LLC
Looks Like No Rate Hikes on the Horizon
Source: Bloomberg
SPX 3-yr Weekly Levels
Source: Bloomberg & Wennco LLC
Monthly S&P 500 Chart w/ Bollinger Bands: Plenty of Room to Come Down
Source: Bloomberg & Wennco LLC
S&P 500 Trading Envelopes: 3-yr, Weekly Chart
Source: Bloomberg & Wennco LLC
Bloomberg World Index
Source: Bloomberg & Wennco LLC
2/10 Treasury Spread
Source: Bloomberg & Wennco LLC
AAPL's Market Cap Continues to Go Up
Source: Bloomberg & Wennco LLC
Commodities 2019 Returns
Source: Bloomberg & Wennco LLC
Crude's 12-month Chart Looks Like Higher Oil is Coming
Source: Bloomberg & Wennco LLC
Gold's Chart Continues to Look Bullish
Source: Bloomberg & Wennco LLC
Monthly Seasonality in SPX (hard to read, but January has been up big or down big since 2014): 2019: 7.87%, 2018: 5.62%, 2017: 1.79%. 2016: -5.07%, 2015: -3.10%, 2014: -3.56%)
Source: Bloomberg
Germany's Dax Index: Looks Like a Large, Inverted Head & Shoulders Pattern
Source: Bloomberg & Wennco LLC
AAPL's Earnings Estimates vs. AAPL's Stock Price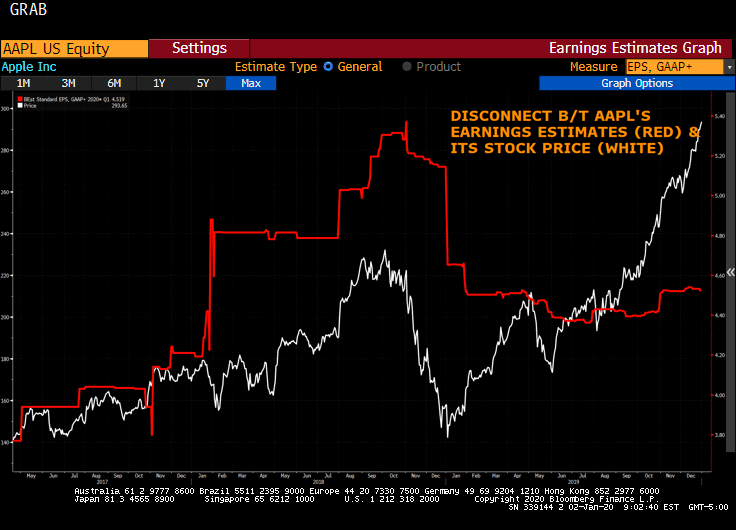 Source: Bloomberg & Wennco LLC
Developed World 2019 Returns (price-only returns), Current Yields, P/E & Forward P/E Ratio's
Source: Bloomberg
CURRENT MARKET DRIVERS WORTH WATCHING
Here are the key drivers that we see as most important in this market (in no particular order as they are all significant):
1) Geopolitical Risks: US-China Trade Talks & Iran Tensions: How many phases will there be to this deal? While markets seem content for now on this front, tariffs continue to crimp global growth. Additionally, tensions with Iran have recently sparked back up. Geopolitical risks are rising.
2) Oil remains over $50/bl: Higher oil prices with slower global growth isn't a good combination. Away from that, $50 remains a key level to hold for all markets, especially high yield. Tensions in the Middle East have recently jumpstarted the price of oil.
3) Earnings and Guidance: Lackluster revenue and forward guidance were the themes for 2019. 2020 will be contingent on many things; US – China trade being a major one. Kickoff to the first earnings season in 2020 – Q4 2019's earnings results – start in about 1 week.
4) Interest rates and the Fed: In a world of slowing economic data, bonds will remain well bid. Are rates still too high here in the U.S.? The German 10-yr is far into negative-yielding territory. Watch 1.80-1.85% in the 10-yr Treasury. Where rates go will affect, among countless other factors, sector and factor rotation within equities.
5) Debt: Debt quality is deteriorating at the same time debt levels are very elevated. There's roughly $23 Trillion in total US Debt for the first time in history. While there has been some deleveraging in households and the much of the banking sector since 2008, both corporate debt – away from financials - and debt to GDP are at nosebleed levels that can add fuel to the next bear market. The growth of the triple BBB corporate bond market is especially worrisome.
WENNCO STRATEGY INFORMATION
Wennco Downshift Hedged Equity Strategy Update:
Since inception (7/1/18) through 12/31/19, Downshift has returned 5.12% (net of Wennco fees only) vs. 0.04% for the HFRX (Hedge Fund Research Equity Index), 22.46% for the S&P 500 Total Return Index, 10.52% for the Bloomberg Barclays U.S. Bond Aggregate Total Return Index, and 8.24% for the BXM Index (CBOE S&P 500 BuyWrite/Covered Call Monthly Index). In 2019, Downshift returned 7.35% (net of Wennco fees only).
Downshift is an all-weather strategy that helps clients stay invested in equities with potentially less volatility and reduced risk, and can also serve as a fixed income replacement strategy.
WHY DOWNSHIFT TODAY?
1) Elimination of market timing while staying invested in equity markets
2) Reduction of portfolio volatility and beta
3) Owning uncorrelated return streams is important to preserving wealth, and especially makes sense in late in market cycles (like where we are today). Bonds have become less uncorrelated to equities, and investors need more reliable sources of protection in risk-off markets. Downshift ETF has two parts which are negatively correlated: long-dated and actively managed S&P put options, and actively managed covered calls that strive to increase both portfolio yield and total return
4) Wennco Downshift Strategy avoids many hassles of owning traditional alternative investments: our strategy is fully transparent, 75bps vs. 100-200bps, and very liquid. It is also easy to understand and articulate
5) Equity market exposure with lower volatility is a more attractive investment than adding fixed income exposure at prevailing yields, in our opinion
Downshift is available to invest on Schwab's Marketplace Separately Managed Account Platform. Our latest 2-pgr can be found here: https://www.wenncoadvisors.com/wenncodownshift-etf-strategy
PLEASE PING ME ANYTIME FOR OUR LATEST DOWNSHIFT DECK and for WENNCO OUTSOURCED CIO INFORMATION
Have a great January. Stay nimble (and warm) out there.
Best,
Chris
Chris Wenner
CIO & Head Trader
Wennco Downshift Strategies
678-257-2726 (o)
203-984-4287 (m)