MARKET RECAP & LOOKING FORWARD:
After a rough start to August, the S&P 500 clawed back to finish the month down -1.58%. Bonds continued to be aggressively bid, and yields on the 30-yr Treasury Bond ended under 2.00%. The 2/10 yield curve – after steeping up to 10bps after inverting mid-month – inverted once again and closed out August under 0. Some strange things are happening in fixed income (other than curve inversions): nearly $17 trillion of negative-yielding bonds around the globe exist (and this number seems to balloon each month), the 10-yr Treasury yield is significantly less than 3-month LIBOR (chart below which speaks volumes around where we are in the cycle), it is also 50bps less than the current yield on the S&P 500, and real yields on the 10-yr are now negative. Fixed income isn't really that "fixed" right now. It's hard to tell if its broken, either. Economic data is ugly and yields can keep going lower. Yields in many other developed countries are much lower than ours. Why can't we be next? However, bonds (yes bonds) seem riskier today than they have been in a long time – especially corporates. It's worth considering that an entire generation of bond traders out there have never experienced pain.
An argument which many strategists and investors are touting today is: relative to where bond yields are, stocks are actually cheap. That's a valid point. As mentioned above, the yield on the S&P 500 is significantly higher than the 10-yr Treasury yield, and many individual equities in the S&P have double + the yield of the 10-yr. But other than being attractive relative to bonds, valuations of many companies are extremely expensive relative to themselves and their respective sectors, earnings are okay, forward guidance is weak, and broad economic data is bad. Doesn't sound like a bull market cocktail. More than half of the PMIs around the world are now below 50. Most of the world's economies are currently in contraction. With all this being said, there are certain sectors - and equities within those sectors - that are attractive in my opinion. Parts of Energy, Financials, and Materials do look very cheap. And President Trump has been hellbent on the stock market living at all-time-highs. Why wouldn't he make sure that's the case headed into next year's election?
Market-moving news is 24/7 with Twitter. Algo's + Twitter often creates dislocations and opportunities in the short-term. But I think whatever Tweets are being exchanged, press releases being sent, or strategists on CNBC claiming, things between the U.S. and China are getting worse and not better. Is President Trump buying enough time keep equities from falling too far, while more aggressive rate cutting (with or without Powell) are on the horizon? And then he gets a trade deal done? Maybe that's the 1-2 punch to lift the S&P 500 another 10-20% heading into the election after a few negative quarters starting now and into early next year. Just a thought. What the Fed has done, has said, will do and will say should supersede all other factors – especially this long into the current expansion and with the amount of debt out there. What's left to fight the next downturn? Has the Fed done too little, too late? As always, watch the Fed, the data, interest rates, earnings and guidance.
Is this a weird market? Yes. But weird is good for active management and tactical money managers.
CHARTS & THEMES WORTH WATCHING
12-month performance of Transports & Small Caps vs. the S&P 500: notably lagging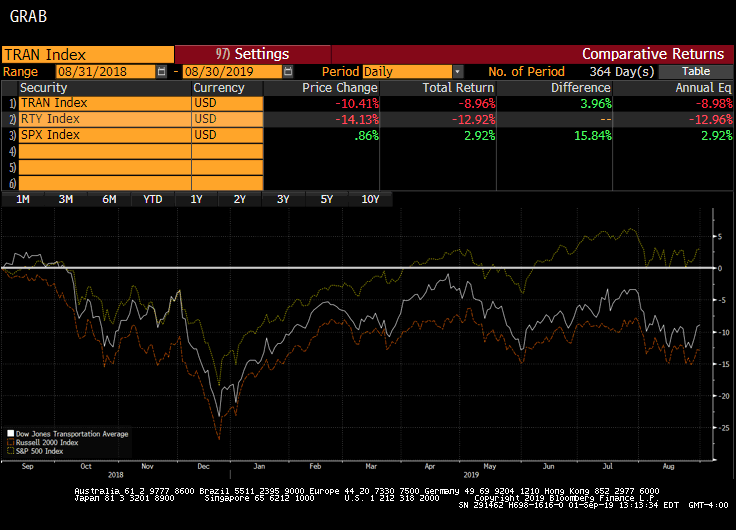 Source: Bloomberg
The S&P 500 started and ended the past 12 months @ 2900
Source: Bloomberg
Negative-Yielding global debt increased by more than $2 Trillion in Aug & now = $16.8 trillion
Source: Bloomberg
Spread b/t 3-month LIBOR & 10-yr Treasury Yields
Source: Bloomberg
TLT or Beyond Meat?
Source: Bloomberg
The Spread b/t the S&P 500 & MSCI World Index remains wide (S&P 500 has been the place to be)
Source: Bloomberg
S&P 500 uptrend from December-lows 2940-2950. Under this level remain cautious
Source: Bloomberg
U.S. trading partners by size (just to have handy for whoever we fight with next)
Source: Bloomberg
Treasury Bonds held by China (no longer the largest holder of our debt)
Source: Bloomberg
Treasury Bonds held by Japan (now the largest holder of our debt)
Source: Bloomberg
Utilities are capturing every tick of the 30-yr Treasury Bond's fall in yields (XLU = 99th percentile for 30-yr yields; as yields are dropping, XLU is rising being the bond-proxy within the equity market that it usually is)
Source: Bloomberg
What the bond market is pricing in for interest rate cuts
Source: Bloomberg
ISM Manufacturing fell hard in August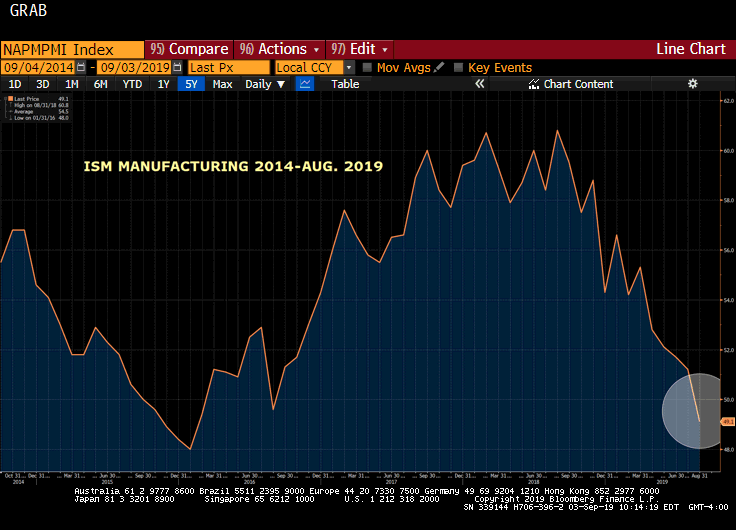 Source: Bloomberg
U.S. Economic Policy Uncertainty Index: what was that?
Source: Bloomberg
XLF (Financials ETF) is treading water. 25 & 24 are important:
Source: Bloomberg
China's Hang Seng Index: trading below its Feb. 2016 uptrend
Source: Bloomberg
Japan's Nikkei is sitting on a key uptrend:
Source: Bloomberg
U.S. Dollar: lift-off or big drop on tap?
Source: Bloomberg
WTI Crude Oil: On its way to $50/bl? If so, look to add exposure:
Source: Bloomberg
Regional Banks: dropping with rates
Source: Bloomberg
Consumer Discretionary ETF (XLY) long-term channel surfing
Source: Bloomberg
Materials Sector remains weak (under the 1st percentile) vs. the S&P 500 on a 10-yr basis
Source: Bloomberg
Tech ETF (XLK) is key for the overall market. 77-77.50 = important uptrend to hold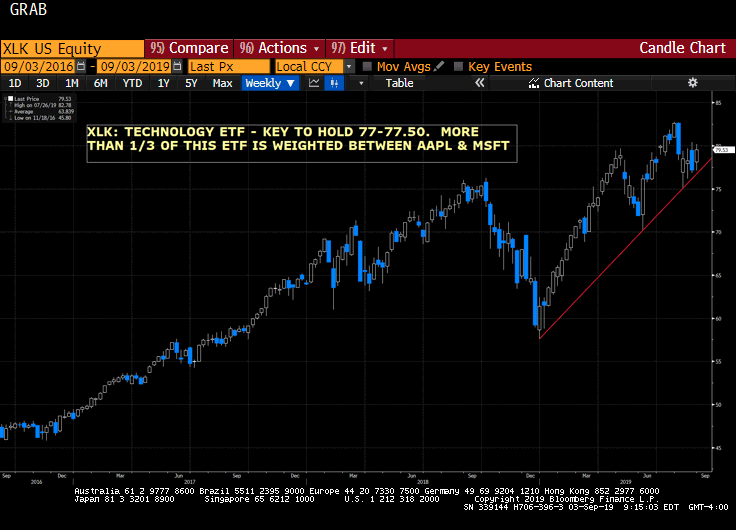 Source: Bloomberg
Bloomberg World Index: ready to fall further or up and away?
Source: Bloomberg
CURRENT MARKET DRIVERS WORTH WATCHING
Here are the key drivers that we see as most important in this market (in no particular order as they are all significant):
U.S. - China Trade Talks: President Trump actually raised tariffs on September 1. Another round is set to start on December 15. Uncertainty around trade is likely to persist is the bottom line. How will markets react to an eventual trade deal with China? Will there ever be a deal? What's priced in? Tariffs continue to crimp global growth. Everything else is speculative, in my opinion.
Oil is Holding Steady over $50/bl: Higher oil prices with slower global growth isn't a good combination, and that's where we are today. Away from that, $50 remains a key level to hold for all markets, especially high yield.
Earnings and Guidance: Lackluster revenue and forward guidance have been the themes thus far in 2019. Q3 earnings season kicks into high gear in about 6 weeks.
Interest rates and the Fed: Rates fell – aggressively – in August as the U.S. seems to be catching up with much of the developed world. Are rates still too high here in the U.S.? Odd market to even have to ask that with the 30-year Treasury under 2.00%. The Fed refused to end the economic cycle in 2016, and they seem adamant on trying to avoid it again now. The Powell put is newly formed – but its strength and reliability is TBD.
Debt: Debt quality is deteriorating at the same time debt levels are very elevated. While there has been some deleveraging in households and the much of the banking sector since 2008, both corporate debt – away from financials - and debt to GDP are at nosebleed levels that can add fuel to the next bear market. The growth of the triple BBB corporate bond market is especially worrisome.
WENNCO STRATEGY INFORMATION
Wennco Downshift ETF Hedged Equity Strategy Update:
Since inception (7/1/18) through 8/31/19, Downshift ETF has gained 2.69% (net of Wennco fees only) vs. -3.72% for the HFRX Equity Hedge Index, 10.22% for the S&P 500 Total Return Index, 10.91% for the Bloomberg Barclays U.S. Bond Aggregate Total Return Index, and 3.03% for the BXM Index (CBOE S&P 500 BuyWrite/Covered Call Monthly Index). For the month of August, Downshift ETF gained 0.37% (net of Wennco fees only) vs. -1.58% for the S&P 500 Total Return Index.
Why Downshift Today?
1) Elimination of market timing while staying invested in equity markets
2) Reduction of portfolio volatility and beta
3) Owning uncorrelated return streams is important to preserving wealth, and especially makes sense in late in market cycles (like where we are today). Bonds have become less uncorrelated to equities, and investors need more reliable sources of protection in risk-off markets. Downshift ETF has two parts which are negatively correlated: long-dated and actively managed S&P put options, and actively managed covered calls that strive to increase both portfolio yield and total return
4) Downshift ETF avoids many hassles of owning traditional alternative investments: the strategy is fully transparent, 75bps vs. 100-200bps, and very liquid. It is also easy to understand and articulate
We are launching two new strategies before year-end: Downshift ETF Emerging Markets and Downshift ETF Non-U.S. Developed. There has also been interest in licensing our Downshift ETF and Covered Call models. Please reach out to me for more information and we are happy to license the models.
Downshift ETF is available to invest on Schwab's Marketplace Separately Managed Account Platform. Our latest 2-pgr can be found here:
https://www.wenncoadvisors.com/wenncodownshift-etf-strategy
PLEASE PING ME FOR OUR LATEST DOWNSHIFT ETF & INVESTMENT STRATEGIES DECK (or for anything else)
Have a great September. Stay nimble out there.
Best,
Chris
Chris Wenner
CIO & Head Trader
Wennco Downshift Strategies